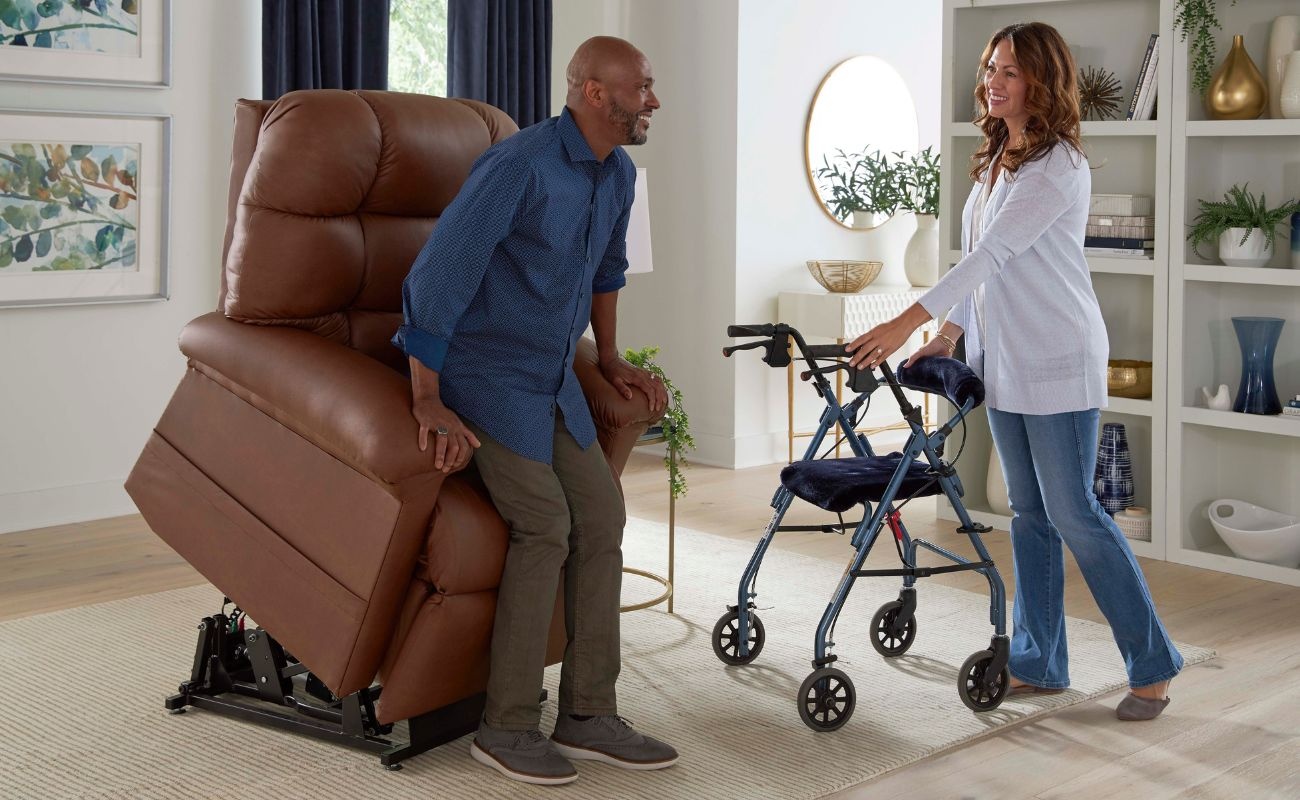 AZ MediQuip is your premier destination for power lift recliner rentals. We understand that comfort, mobility, and independence are essential for individuals with limited mobility, and our rental service is here to meet those needs. With our flexible weekly and monthly rental options, you can now experience the benefits of a power lift recliner without a long-term commitment.
We offer three types of power lift chairs to cater to your specific requirements. Our Infinite Position Zero-Gravity Lift Chairs are designed to provide the ultimate in relaxation and comfort. With customizable reclining positions these chairs offer a luxurious experience. Many patients find the infinite position important for surgical and aging needs including promoting increased blood flow and a comfortable and safe alternative to bed sleeping to reduce the risk of falls.
For those seeking a more traditional option, our Standard Lift Chairs are an excellent choice. These chairs feature smooth lifting mechanisms, ergonomic designs, and plush upholstery to ensure optimum comfort and support.
If you require additional strength and durability, our Heavy Duty (bariatric) lift chairs are specifically designed for individuals with larger body frames. These chairs provide reinforced construction, wider seating areas, and increased weight capacities to accommodate varying needs.
Medical grade lift chairs are specifically designed for individuals with mobility issues, providing features like powered lifting mechanisms and enhanced support, whereas recliners or La-Z-Boy chairs are standard seating options without specialized mobility assistance features. Additionally, the fabrics—including leather—are not sterile and can lead to infection, bed soars, and lingering odors. Medical-grade Power Lift Recliners offer safe and healthy solutions that can be sanitized to CDC and Medicare standards. AZ MediQuip's rental Power Lift Chair fleet features medical-grade vinyl material or waterproof cloth carefully cleaned between rental periods.
There are several reasons why someone might choose to rent a power reclining lift chair. Firstly, it provides enhanced comfort and support for individuals with limited mobility or those recovering from surgery or injury. The powered lifting mechanism helps them effortlessly transition from a seated to a standing position, promoting independence and reducing the risk of falls. Renting a power reclining lift chair is also a cost-effective solution for temporary needs, as it eliminates the need for a long-term investment. Additionally, it allows individuals to test the chair and determine if it meets their specific comfort and functional requirements before committing to a purchase. Finally, renting provides flexibility, allowing individuals to return the chair once they no longer require it, without the hassle of storage or resale. 
Your comfort, health, safety, and convenience are our priority. Our knee scooter rentals are meticulously maintained and thoroughly sanitized, ensuring your safety and peace of mind. Our friendly and knowledgeable staff is available to assist you in selecting the right knee scooter for your unique requirements and provide any necessary instructions for safe operation.
Regain your mobility and independence with our top-quality knee scooter rentals. Contact us today to explore our rental options and take the first step toward a faster and smoother recovery.

For all rentals, we proudly offer OPTIONAL in-home white-glove delivery to make your rental experience more comfortable and convenient, all at an affordable price. Delivery rates are subject to change based on location.


| | | | |
| --- | --- | --- | --- |
| Product Description | Monthly Rate | Weekly Rate | Book Your Rental |
| Infinite Position Zero-Gravity Power Recline Lift Chair | $450 | $150 | |
| Standard Power Reclining Lift Chair | $300 | $100 | |
| Heavy Duty Wide Power Recline Lift Chair | $450 | $150 | |
Our fleet of Infinite Position Power Reclining Lift Chairs have a separate motor for back and leg sections allowing for individual control of all aspects of your chair. The models we rent feature a 20" x 20" seat, a 350 lbs. weight capacity, and work for most individuals from 5′ to 6′ 2" tall.

Lift chairs provide powered lift and recline with no levers to push, just use the simple hand control. Our standard lift chairs feature a 20" x 20" seat, a 350 lbs. weight capacity and work for most individuals from 5′ to 6′ 2" tall.

Our Heavy-Duty Wide lift chair option offers a 500 lbs. weight capacity and a 26" wide seat. The Heavy-Duty Wide lift chair is a dual motor design to safely accommodate those needing more support.